Foam Gasket
Hon Hamn can produce UL-proved fire retarded foam gasket with adhesive and other processing.
Material:
PORON®, CR, NBR, SBR, EVA, PE, PU, AEPE, CEPE, wool felt, dust cover....etc. Everything accurate needed is here.
Utility:
Any products require to have dust-proof, shock-proof, sound-absorptive, anti-shake, electricity conductive, insulation, anti-skid, wear-resisting, anti-static…
Application:
Home Appliance - Air Conditioner, Refrigerator, Washing machine, Audio, Ventilation…
Office Appliance - Printer, Copy Machine, Fax Machine, Computer, Laptop, Scanner, Digital Cameras, Cell Phones…
Automotive - Auto Parts…
Customized Die Cutting.
Automatic Adhesive Processing Machine for Foam Gasket.
Material:
PORON®, CR, NBR, SBR, EVA, PE, PU, AEPE, CEPE, wool felt, dust cover....etc. Everything accurate needed is here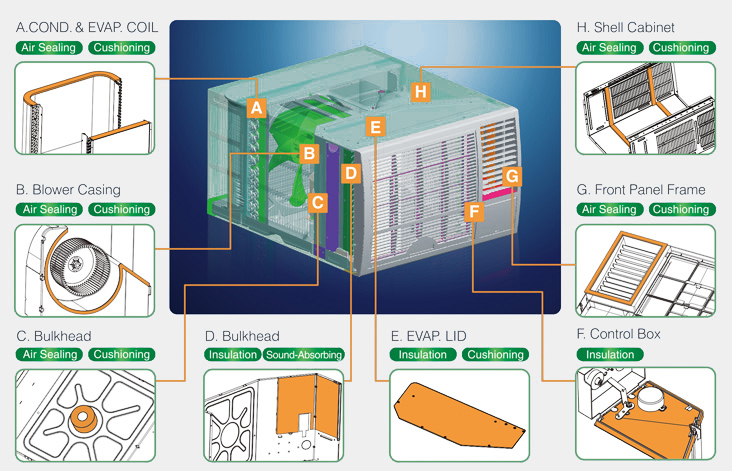 TYPE
GENERIC
MODEL
DENSITY(Kg/m3)
MAX-WIDTH(mm)
FEATURES
PU
01
ABUL
32
1,230
Insulation
02
ADUL
23.5
1,230
03
ADAUL
20.5
1,230
04
T15UL
14
1,230
05
T45HUL
43.6
1,230
06
T28UK
28.4
1,230
07
PU FILTER
19.3
1,000
08
AL PET+ADAUL
20.5
1,200
PE
01
AEPEUL
32.4
1,230
02
CEPEUL
31.9
1,230
03
EPE
18.7
1,000
04
EPE_ANTI-STATIC
22.2
1,000
05
AEPE
66.7±8
1,870
06
CEPEUL+Aluminum Foil
28.6±2
1,200
07
EVA
96.2
1,000
08
PE(CONDUCTIVITY)
30-45
1,000
SPECIAL
01
RBUL
60~80
1,200
02
VS-100F
50~70
1,200
03
SBR
72.7
1,200
04
RB TUBE
60~80
1000
05
CR4305
207.7
1,000
06
HIMELON
1,000
07
CARBON FILTER
34.5
1,000
X FAOM:
S/ M/ XS/ S-TA Series
S/ M/ XS/ S-TA Series are used around the LCD screens, speakers, batteries, LEDs, and other important components of communication devices.

・S Series: Soft
・M Series: Medium
・XS Series: Extra Soft
・S-TA Series: Soft/ Tape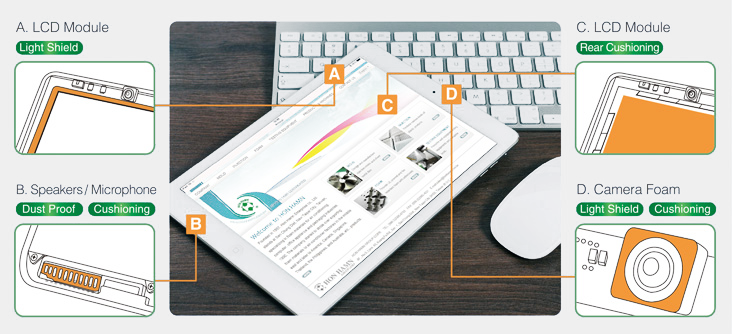 | | | | | |
| --- | --- | --- | --- | --- |
| NO. | MODEL | Thickness (mm) | Density (Kg/m3) | Max-Width (mm) |
| 01 | S-02 | 0.2 | 0.65 | 520 |
| 02 | S-03 | 0.3 | 0.5 | 520 |
| 03 | S-04 | 0.4 | 0.45 | 520 |
| 04 | S-05 | 0.5 | 0.45 | 520 |
| 05 | S-07 | 0.7 | 0.4 | 520 |
| 06 | S-10 | 1.0 | 0.4 | 520 |
| 07 | S-12 | 1.2 | 0.38 | 520 |
| 08 | S-15 | 1.5 | 0.38 | 520 |
| 09 | S-20 | 2.0 | 0.34 | 520 |
| 10 | S-30 | 3.0 | 0.32 | 520 |
| 11 | M-10 | 1.0 | 0.32 | 520 |
| 12 | M-20 | 2.0 | 0.32 | 520 |
| 13 | XS-05 | 0.5 | 0.28 | 520 |
| 14 | XS-10 | 1.0 | 0.26 | 520 |
| 15 | S-TA10 | 0.1 | 0.5 | 520 |
| 16 | S-TA15 | 0.15 | 0.35 | 520 |
GASKA:
LD/ V Series & GHB Tapes
All product are used around Automotive, Construction, Industrial, Electronics, Transportation, Retail, Air Conditioners.
GHB Tape: With excellent acrylic adhesives to bond most dry, clean, oil free surfaces, like steel, alum, and other metals.
LD/ V Series: Flexible foam for irregular, curve surface to seal, cushion, insulate, and dampen vibration.

・LD: Soft
・V710, V810: Soft/ tight radius curve surface
・V1510: Medium/ tough duty applications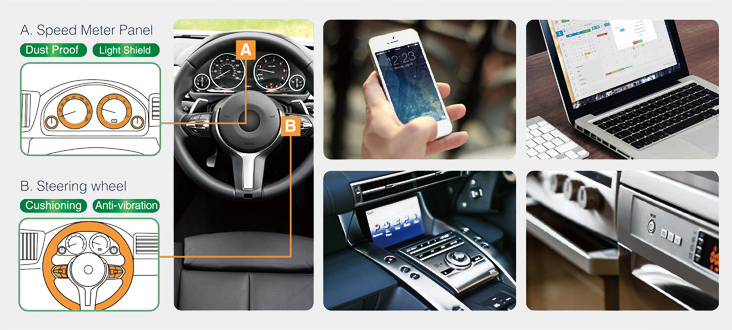 NO.
MODEL
Tensile Adhesion
Adhesive Peel (psi)
Holding Power
(180' Shear)
01
GHB4026WH
80
7
0.5
02
GHB4526BK
120
12
1.0
03
GHB4726GY
120
15
3
04
GHB6626CL
125
6
0.5
| | | | | |
| --- | --- | --- | --- | --- |
| NO. | MODEL | Thickness(mm) | Max-Width(mm) | Features |
| 05 | LD | 3.2- 12.7 | 25.4- 1,448 | Cushioning |
| 06 | V710 | 2.0- 25.4 | 6.4- 1,448 | Insulation |
| 07 | V810 | 2.0- 20.0 | 6.4- 1,448 | Insulation |
| 08 | V1510 | 1.6- 12.7 | 6.4- 1,448 | Wear Resistance |