Foam Gasket
ADHESIVE PROCESSING MACHINE
HON HAMN is equipped the Automatic Adhesive Processing Machine for foam gasket incorporates several steps in one production line. Based on the coating process, the liquid acrylic adhesives is coated to a substrate, then immediately laminated to a second substrate via a nip followed by taking into the oven for heat-drying at high temperature so that it is ready to be rewound as a complete foam gasket.
REELING
To increase efficiency in your facility and decrease downtime in your production process by using long-length reels. HON HAMN offers customized length and widths reels with a variety of foam to support your multiple applications.
The maximum width of foam is with 8 mm, capable of ± 1mm in tolerance.
SHEET
HON HAMN can cut foam into sheet and laminate another material such as protective film on either sides or one side with the size requested by customers as the Width available up to 1.2 meters and 32 kg/m3 in Density.
LAMINATIONS
HON HAMN utilize several processing techniques, so we are able to choose the process best suited to the product characteristics. The process can apply adhesive foam to foam such as PU, PE, and PET. Different materials can also be bonded together such as foam to Aluminum or PVC. We can match customer's needs by our technology know-how.
Our working process can laminate foam while controlling curl by the selection of adhesive and the unique technology, no occurrence of voids bubbles between the interlayer.
TUBE
HON HAMN provides the secondary manufacturing processes of standard and custom foam tubing ideal in minimum thickness of 5mm for reducing vibration. Available in various sizes and serves the HVAC and manufacturing industries with UL certified.
ADHESIVE APPLICATIONS
HON HAMN products are often coated with "Acrylic Adhesives". They offer performance advantages over other types of compositions. Acrylic Adhesives exhibit good ultraviolet and exterior durability, excellent chemical resistance under a broad range of temperatures. These adhesives are typically characterized by peel and shear.
SLITTERS
HON HAMN is equipped with multiple slitting capabilities across several machines to produce the highest quality converted rolls for each of your diverse applications, whether you need ultra-thin 8 mm wide width for laminating or the maximum thickness of foam with 8 mm, capable of ± 1mm in tolerance, we have the flexibility to slit a wide assortment of materials regardless of their raw dimensions.
DIE CUTTING
Since die cutting foam involves compressing the foam, a certain amount of distortion is to be expected. We die cut PU, PE and rubber materials serving multiple end users including general industrial and household. Our design team will work with you to determine the best materials for your project.
HON HAMN Customized Die Cutting
HON HAMN Automatic Adhesive Processing Machine for Foam Gasket.
Hon hamn Foam:
PORON®, CR, NBR, SBR, EVA, PE, PU, AEPE, CEPE, wool felt, dust cover....etc. Everything accurate needed is here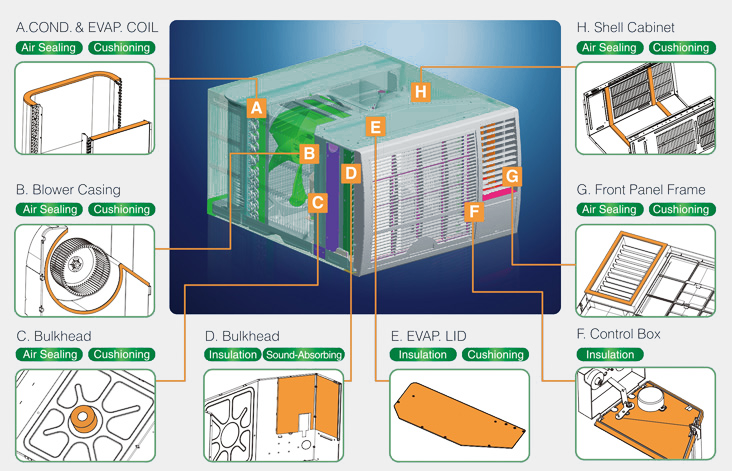 TYPE
GENERIC
MODEL
DENSITY(Kg/m3)
MAX-WIDTH(mm)
FEATURES
PU
01
ABUL
32
1,230
Insulation
02
ADUL
23.5
1,230
03
ADAUL
20.5
1,230
04
T15UL
14
1,230
05
T45HUL
43.6
1,230
06
T28UK
28.4
1,230
07
PU FILTER
19.3
1,000
08
AL PET+ADAUL
20.5
1,200
PE
01
AEPEUL
32.4
1,230
02
CEPEUL
31.9
1,230
03
EPE
18.7
1,000
04
EPE_ANTI-STATIC
22.2
1,000
05
AEPE
66.7±8
1,870
06
CEPEUL+Aluminum Foil
28.6±2
1,200
07
EVA
96.2
1,000
08
PE(CONDUCTIVITY)
30-45
1,000
SPECIAL
01
RBUL
60~80
1,200
02
VS-100F
50~70
1,200
03
SBR
72.7
1,200
04
RB TUBE
60~80
1000
05
CR4305
207.7
1,000
06
HIMELON
1,000
07
CARBON FILTER
34.5
1,000
X FOAM:
S/ M/ XS/ S-TA Series
S/ M/ XS/ S-TA Series are used around the LCD screens, speakers, batteries, LEDs, and other important components of communication devices.

・S Series: Soft
・M Series: Medium
・XS Series: Extra Soft
・S-TA Series: Soft/ Tape
| | | | | |
| --- | --- | --- | --- | --- |
| NO. | MODEL | Thickness (mm) | Density (Kg/m3) | Max-Width (mm) |
| 01 | S-02 | 0.2 | 0.65 | 520 |
| 02 | S-03 | 0.3 | 0.5 | 520 |
| 03 | S-04 | 0.4 | 0.45 | 520 |
| 04 | S-05 | 0.5 | 0.45 | 520 |
| 05 | S-07 | 0.7 | 0.4 | 520 |
| 06 | S-10 | 1.0 | 0.4 | 520 |
| 07 | S-12 | 1.2 | 0.38 | 520 |
| 08 | S-15 | 1.5 | 0.38 | 520 |
| 09 | S-20 | 2.0 | 0.34 | 520 |
| 10 | S-30 | 3.0 | 0.32 | 520 |
| 11 | M-10 | 1.0 | 0.32 | 520 |
| 12 | M-20 | 2.0 | 0.32 | 520 |
| 13 | XS-05 | 0.5 | 0.28 | 520 |
| 14 | XS-10 | 1.0 | 0.26 | 520 |
| 15 | S-TA10 | 0.1 | 0.5 | 520 |
| 16 | S-TA15 | 0.15 | 0.35 | 520 |
GASKA:
LD/ V Series & GHB Tapes
All product are used around Automotive, Construction, Industrial, Electronics, Transportation, Retail, Air Conditioners.
GHB Tape: With excellent acrylic adhesives to bond most dry, clean, oil free surfaces, like steel, alum, and other metals.
LD/ V Series: Flexible foam for irregular, curve surface to seal, cushion, insulate, and dampen vibration.

・LD: Soft
・V710, V810: Soft/ tight radius curve surface
・V1510: Medium/ tough duty applications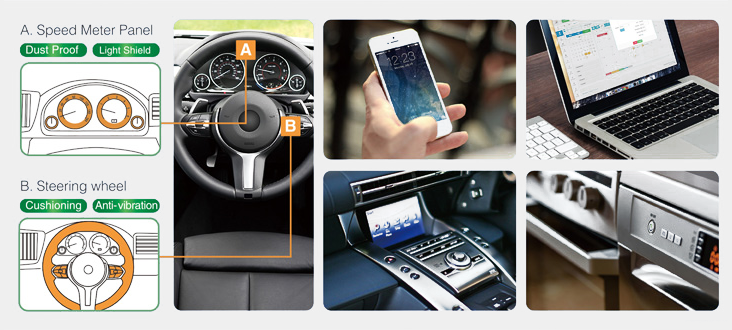 NO.
MODEL
Tensile Adhesion
Adhesive Peel (psi)
Holding Power
(180' Shear)
01
GHB4026WH
80
7
0.5
02
GHB4526BK
120
12
1.0
03
GHB4726GY
120
15
3
04
GHB6626CL
125
6
0.5
| | | | | |
| --- | --- | --- | --- | --- |
| NO. | MODEL | Thickness(mm) | Max-Width(mm) | Features |
| 05 | LD | 3.2- 12.7 | 25.4- 1,448 | Cushioning |
| 06 | V710 | 2.0- 25.4 | 6.4- 1,448 | Insulation |
| 07 | V810 | 2.0- 20.0 | 6.4- 1,448 | Insulation |
| 08 | V1510 | 1.6- 12.7 | 6.4- 1,448 | Wear Resistance |
Q1
Are you trading company or factory ?

HON HAMN's Headquarter and R&D Dept. is located in Taiwan, and Our Factory is located in Dongguan, GuangDong Province, China.

Q2
How can I ensure my technical information and know-how will be protected?

We can sign NDA's agreement (Non-Disclosure Agreements) to restrict the usage and additional disclosure of the shared information, knowledge, or materials.

Q3
I have an idea/ sample but don't have drawing, what can I do?

Please share the project detail to us, and we can provide ON STOP SERVICE.

Q4
What type of files can you accept?

STP, IGS, DWG, DXF.

Q5
Your trading terms ?

EX-WORKS, FOB, CIF, DDP, DDU

Q6
Your payment terms ?

For plastic injection molds and metal stamping dies : 30% T/T in advance before starting design & 70% T/T before shipment.
For Mass Production, 100% T/T in advance, D/P (Cash against Document) are workable.


Q7
Are you Foam Manufacturer or Processing Company?

We provide foam gasket with adhesive and other processing.

Q8
What materials are available to produce from your side?

PE/ PU/ RUBBER/Low Density Foam/PVC, etc. Everything accurate needed is here.

Q9
What is your sample policy?

We can offer free samples of small sizes for Standard Material and Thickness, but customers have to pay the delivery cost.

Q10
What information should I give to you for inquiry?

1) Product Drawing
2) Material, Dimension & Thickness
3) MOQ and Yearly Demand
4) Parts Application
5) Adhesives tape requirement (Single or Double side)