HON HAMN uses professional 2D, 3D and other software to design and to analysis plastic injection molds. The maximum mold size can match with 650-ton injection machine. During mold designing stage, experienced and talented engineers use the mold flow analysis program to study all possible situations of mold flow during injection. This will minimize the cycle time, stable the production quality, increase the lifetime of mold, and achieve the best efficiency. HON HAMN has end to end engineering solution for customer from product concept/design, to iterative prototyping and low volume production and to mass production.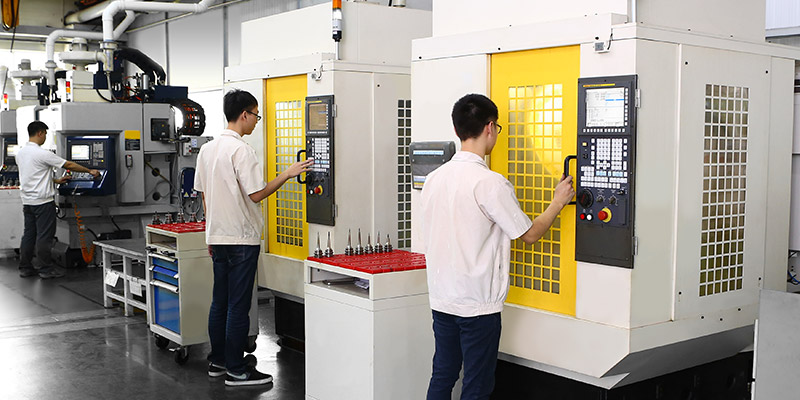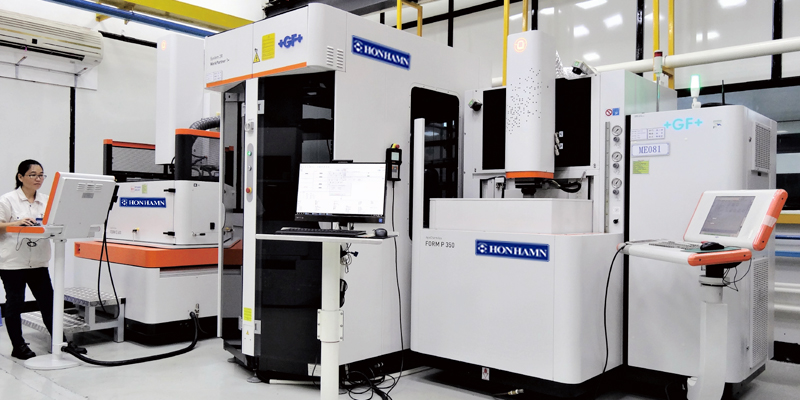 HON HAMN continuously optimize and invest in the mold making capabilities and processing machines.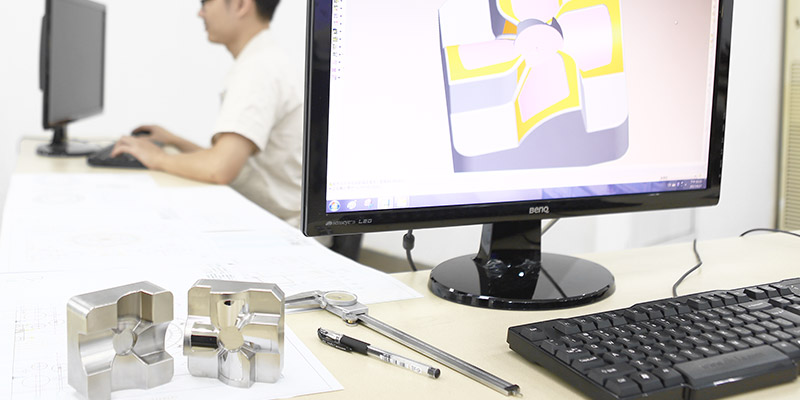 HON HAMN continuously update the latest software and provide special training for employees.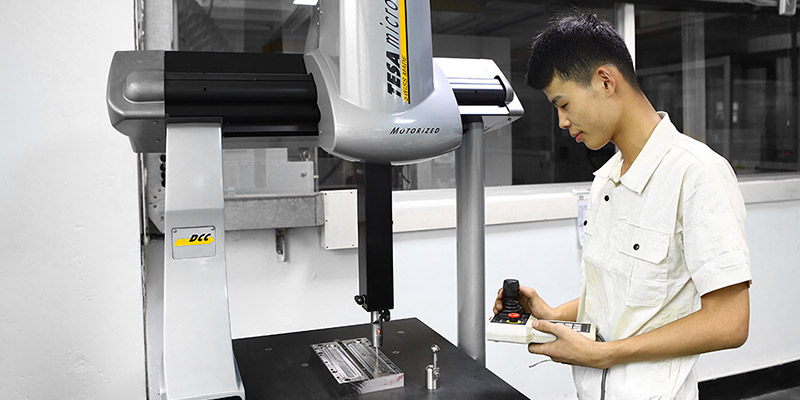 HON HAMN uses Coordinate Measuring Machine for precise dimension.
ASSAB
AISI
JIS
DIN
GB
STEEL PROPERTIES
HARDNESS SUPPLIED
MAJOR COMPONENTS (%)
GENERAL APPLICATION
C
Si
Cr
Ni
Mn
Mo
V
W
CARBON STEEL
760
1050
S50C
CK53
S50C

High-strength carbon steel.

Annealed HB 200
0.5
0.1
0.2
0.2
0.8
-
-
-

Not good in welding properties and hardenability, butno temper brittleness, cutting performance is Acceptable. More used as a mold base or cavity Insert with lower requirement

HOT WORK TOOL STEEL
618
P20(Modified)
PDS3
1.2311
3Cr2Mo

Pre-hardened general-purpose plastic mold steel.

Prehardened to HB 290-330
0.38
1.9
1.5
0.15

Good etching and polishing for mold texture, pre-hardened steel.It could use as cavity insert without quenching.

718
P20(Modified)
PDS5
1.2738
3Cr2Mo

Pure and uniform, containing about 1% nickel.

Prehardened to HB 290-310
0.38
0.3
2.0
1.0
1.4
0.2

High quality mold inserts, suitable for non-Flame Retardant plastic tooling of PA, POM,PS, PE, PP, ABS.

718H
P20(Modified)
1.2738
3Cr2Mo

Pre-hardened, Pure and uniform, containing about 1% nickel.

Prehardened to HB 330-380
0.38
0.3
2.0
1.0
1.4
0.2
S136
420
SUS420J2
1.2083
3-4Cr13

High purity, high degree of mirror polishing on optical application, excellent ability of anti-rust and anti-acid.

Annealed to HB 200
0.38
0.8
13.6
0.5
0.3

High quality mold inserts with mirror surface finish and good corrosion resistance, anti-corrosive cooling channel, suitable for plastic tooling of Pre-hardened condition PVC, PA, POM, PC, PMMA.

S136H
420H
SUS420J2
1.2316
3-4Cr13

Pre-hardened, high purity, high degree of mirror polishing on optical application, excellent ability of anti-rust and anti-acid.

Prehardened to HB 290-330
0.38
0.8
13.6
0.5
0.3
8407
H13
SKD61
1.2344
4Cr5MosiV1

Hot work steel, high toughness and good heat resistance.

Annealed to HB 185
0.38
1.0
5.3
0.4
1.3
0.9

Suitable for long lasting required cavity insert, metal casting, extrusion die and plastic mold of PA, POM, PS, PE and engineering plastic.

COOL WORK TOOL STEEL
DF-2
01
SKS3
1.251
9Mn2V

Oil-hardened steel without deformation, the best oil-hardened tool steel.

Annealed to HB 190
0.95
0.6
1.1
0.1
0.6

Widely used, good processing performance, abrasion resistance, minor thermal dimensional deformation. Not good in toughness and corrosion resistance. Commonly used in stamping die,bending die, punching metal tools.

XW-41
D2
SKD11
1.2379
Cr12MoV

High wear resistance, minor deformation of cold work steel.

Annealed to HB 240
1.55
0.3
11.6
0.3
0.8
0.9

Air-hardened tool steel, heat-treated hardness up to 60HRC. Used to make large cross-section, complex shape to withstand impact, high wear resis-tance of cold work tool steel, steel dies, trimming die.
Mold Types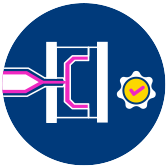 Production Mold in HON HAMN
HON HAMN uses imported brand steel such as NAK80, SKD11, P20 to build production injection molds for stable and high quality with over 300,000 ~ 800,000 plastic injection molding cycles upon request. HON HAMN offers LIFETIME MOLD WARRANTY if the molds stay and molding in our facility. All repairmen and maintenance cost are on us.

● Faster Production Time and Higher and Stable Quality Products.
● Less Wasted Material.
● Competitive Cost on Production Runs.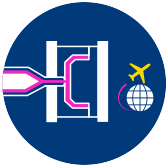 Export Mold
HON HAMN offers molds to be exported to the customer's facility for production. All the molds are built to match customer's specification, including type of steel, optimal runner system, gate type, cavities, and other features specified. Whenever the molds arrive at your facility, they could fit directly to your injection molding machines and ready for stable and high-quality production.

● High quality, competitive price and quick delivery.
● In-house mold trials and inspection before Worldwide shipping to your production facility.
● After-sale Technical and Maintenance support.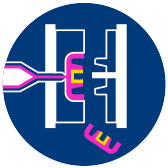 Insert Mold
HON HAMN can insert metal, plastic, or ceramic pieces into the molten plastic parts to offer multi-material products. Insert molding gives stronger joining forces between different material, less production cost and time compare to secondary processes with heat staking technology.

● Reduce part weight and dimension.
● Overall cost savings.
● Increase part strength and liability.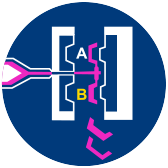 Family Mold
HON HAMN offers an economical way to produce a roughly equal size of the plastic parts, same material & color & quantity at the same time in a multiple-cavity mold. This is a great way to control assembled parts to have the same color.

● Less Molding and Production Cost.
● Easier Ordering and management in set.
● Uses MOLDEX-3D to have balanced mold flow.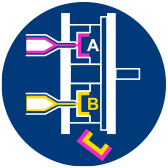 Over-molding
HON HAMN provides over-molding process which one thermoplastic material is molded over another material to form one part. Two materials are strongly bonded together to form plastic component with unique visual appearance.

● Cost savings as no secondary operation or adhesive required.
● Increase productivity.
● Different texture and design for customer choice.
Protect Your Investment
Prevention Strategy
After a mold/die has run a set number of production cycles, inspections, maintenance and cleaning procedure must be performed. Different types of mold/die age with different speed, so scheduled maintenance needs to be executed and documented carefully. HON HAMN years of professional experience offers the ability to determine the best mold/die maintenance schedule specific to each plastic injection mold or metal stamping die.
Maintenance Schedule
Mold/Die repairs can be very costly, so it is extremely important to perform regular maintenance for plastic injection molds and metal stamping dies. This is the best way to protect your valuable investment and maintain consistent production of quality plastic/metal parts. With our advanced machine and professional experience, we provide quick and efficient mold/die repairs or revisions to ensure the production of high and stable quality components. Our insert type mold/die design also allow us to quick change of the damaged area instead of rebuilding the whole mold/die.
3D Printed Conformal Cooling Channel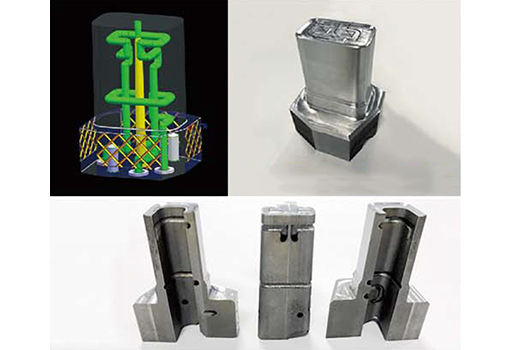 Cooling Channel is a particularly important key for all types of plastic injection mold. With a well-designed cooling channel system, the heat of the mold can be controlled and provide less cycle time and better stable injected quality of the parts. In traditional, the cooling channels are in linear design and made by drilling straight holes in the core and cavity and they cannot provide an efficiency cooling effect when we have a complicated component design. Therefore, with the state-of-the-art 3D printing technology, we can build a conformal cooling design with metal 3D printing machine. Conformal cooling channels can follow the shape of the complex components and provide well cooling effect in all areas along the shape. With HON HAMN engineering teams, we use mold flow analysis software, MOLDEX 3D, to study the thermography and find out the heat spots that can be benefited from 3D printed conformal cooling channels with lower cost. With conformal cooling channel, we can be benefited for the following, better and stable injected quality, less warpage, less cycle time up to 65%, lower overall production cost, well balanced molding temperature and longer mold lifetime.
Mold Standard Surface Finishes
Mole-Tech
Ptn. #
Depth(mm)
Angle
Ptn. #
Depth(mm)
Angle
MT-11200
0.003
4.5°
MT-11315
0.001
1.5°
MT-11205
0.0025
4°
MT-11340
0.003
4.5°
MT-11215
0.0045
6.5°
MT-11345
0.003
4.5°
MT-11230
0.0025
4°
MT-11350
0.0035
5.5°
MT-11240
0.0015
2.5°
MT-11400
0.002
4°
MT-11245
0.002
3°
MT-11415
0.002
3°
MT-11250
0.0025
4°
MT-11420
0.0025
4°
MT-11260
0.004
6°
MT-11430
0.007
10°
MT-11265
0.005
7°
MT-11435
0.010
15°
MT-11280
0.0055
8°
MT-11440
0.0005
1.5°
MT-11310
0.005
7°
MT-11445
0.0015
2.5°
HN
UT
Ptn. #
Depth(mm)
Angle
Ptn. #
Depth(mm)
Angle
HN20
0.0004~0.0006
2°
UT 7005
0.012
1°
HN21
0.0005~0.0007
2°
UT 7001
0.025
1.5°
HN22
0.0008~0.0010
3°
UT 7015
0.038
2°
HN23
0.0012~0.0015
4°
UT 7002
0.050
3°
HN24
0.0007~0.0009
3°
UT 7025
0.063
3.5°
HN25
0.0008~0.0011
3.5°
UT 7003
0.076
4.5°
HN26
0.0011~0.0013
4
UT 7000 #5
0.006
1°
UT 7000 #6
0.019
1°
Q1
Are you trading company or factory ?

HON HAMN's Headquarter and R&D Dept. is located in Taiwan, and Our Factory is located in Dongguan, GuangDong Province, China.

Q2
How can I ensure my technical information and know-how will be protected?

We can sign NDA's agreement (Non-Disclosure Agreements) to restrict the usage and additional disclosure of the shared information, knowledge, or materials.

Q3
I have an idea/ sample but don't have drawing, what can I do?

Please share the project detail to us, and we can provide ON STOP SERVICE.

Q4
What type of files can you accept?

STP, IGS, DWG, DXF.

Q5
Your trading terms ?

EX-WORKS, FOB, CIF, DDP, DDU

Q6
Your payment terms ?

For plastic injection molds and metal stamping dies : 30% T/T in advance before starting design & 70% T/T before shipment.
For Mass Production, 100% T/T in advance, D/P (Cash against Document) are workable.


Q7
What information should I give to you for inquiry?

1) Product 2D/3D drawing
2) Product material
3) Mold Cavitation
4) Runner type: cold or hot
5) Mold steel type
6) Mold trial and sample quantity
7) Other special requirements

Q8
What type of plastic injection mold do you make?

We can make the PRODUCTION MOLD, EXPORT MOLD, INSERT MOLD, MULTI-CAVITY MOLD, HOT RUNNER MOLD and FAMILY MOLD.

Q9
How many percent of molds are exported?

75% of the molds we built are exported to USA, Canada, Japan, and Middle East.

Q10
Do you provide samples ? is it free or extra cost?

Before deciding to make the mold, HON HAMN can offer mockup with CNC milling or 3D printing, with extra sample cost and shipping fee.

Q11
What is your advantage?

HH could produce both injection mold and plastic products. Combining the advantages of both design concepts and offer ENGINEERING SOLUTION to optimize the products. With a good quality of mold, a lot of cost can be saved easily.
1. Less Cycle time
2. Longer Mold life
3. Less frequency of shut down
4. Better quality, low rejection ratio and less manual reworks.
5. We have wide product range from machine size 80ton to 1,300ton (max. product length 1.6M)