Success Case
HON HAMN participating the project "East and West Bridge" of International cooperation during the COVID-19 pandemic.
It has been one and half years since the Covid-19 pandemic in 2019. Travel restrictions have had a devastating impact on Cross-border business activities. At the time of crisis, HON HAMN is honored to work with MATSUI MFG. CO., LTD. and Contura MTC GmbH to showcase how we bridge the technology between East and West.

MATSUI MFG. CO., LTD., founded in 1912, manufacturing and sales of plastics processing equipment and systems (molding-process temperature controllers, conveyors, mixers, crushers, recycling devices, etc.) with 64 Locations in 16 Countries.
Manufacturer of a wide range of peripheral equipment as well as solution providers with over 250 solutions that contribute to the reduction of cycle time, material wastage, and energy consumption. MATSUI MFG. CO., LTD. is the largest global network of sales and services in the plastics industry.
Contura MTC GmbH, founded in 2003, is an expert in conformal cooling channels for plastic molding. Focusing on conceptual design, engineering, and fabrication of contoured temperature-controlled mold inserts.
HON HAMN joined the professional team with MATSUI MFG. CO., LTD. and Contura MTC GmbH in June 2021, working together on the project of "East & West Bridge" showing the example of induction heating technology used in injection molding. We overcome the barriers caused by COVID-19 with constant communications via e-mail, messages apps, video conference calls, and successfully connecting the expertise of the three companies.
1. MATSUI MFG. CO., LTD. (Japan): Plastics processing equipment and systems.
2. Contura MTC GmbH (German): Conformal cooling channels for plastic molding.
3. HOH HAMN Group (Taiwan-based injection molding factory): Injection mold and plastic molding.
With the cooperation of the perfect solution team, the project of "East and West Bridge" is successfully exhibited in video and live-streaming sharing how conformal cooling channels can help to greatly improve Surface Quality and Cycle Time during the FAKUMA show. Not only significant savings on energy consumption, time, and cost, but also increase productivity greatly.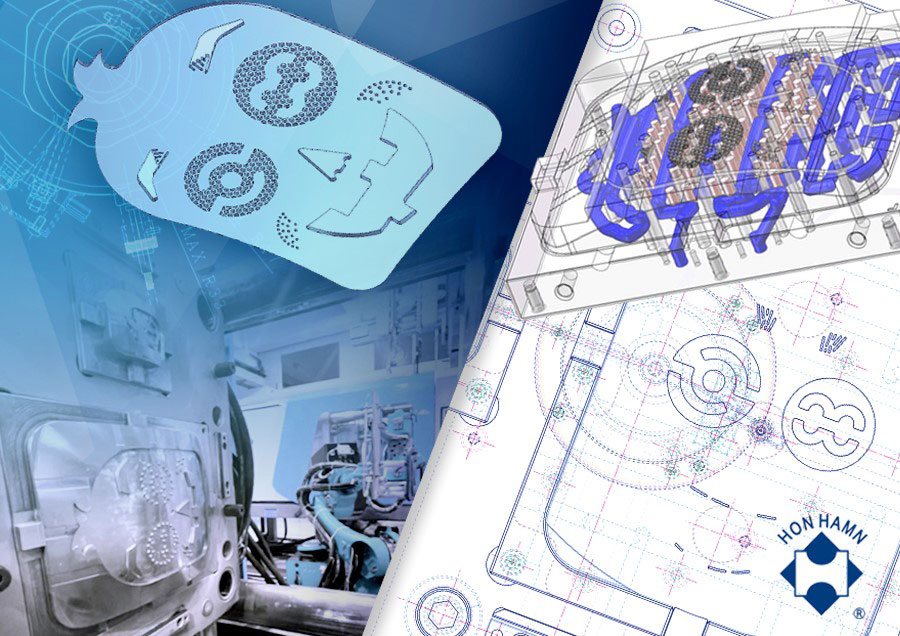 松井社长致词:

「プラスチックの成形にとって、高い成形品質と短いサイクルタイムの両方を実現することは、もっとも 困難なことの一つです。

 今回、IHによる加熱と3次元冷却水管の金型を用いて、その2つの両立を実現できたことは、この産業にとって大きなインパクトとなり、今後のプラスチック成形業界の発展に寄与できるものと確信しています。金型と成形技術の両面でのHON HAMN様の協力に大いに感謝いたします。」

「

對於塑料成型加工來說,最困難的事情之一,就是既要獲得高的成型質量,又要實現短的成型週期。這次利用電磁感應加熱和三維冷卻水路模具,同時滿足了這兩方面的需求,相信這必將對這個行業產生很大的影響,並且必將會對塑料成型行業的未來發展做出貢獻。我們非常感謝弘瀚公司在模具和成型技術兩方面給予的精誠合作。」

"Achieving both high molding quality and short cycle time is one of the most difficult things for plastic molding. I believe the successful case of "East & West Bridge" achieved by Induction Heating and 3D cooling channels will have a great impact and contribute to the future development of the plastic molding industry. We would like to thank HON HAMN for their cooperation in both mold and molding technology."

Commented by Mr. Hironobu Matsui, President and CEO of MATSUI MFG. CO., LTD.




Contura MTC GmbH 致词:

「ドイツ、台湾、日本、中国など国境超えた技術の結集をテーマに、従来にない新たな工法の開発に取り組んでいる。今回はその一例で、表面品質の向上とサイクル短縮という相反する課題を実現する事が出来た。この技術のアプリケーションは無限大で、今後の成形加工にイノベーションを起こせると期待している。また、HON HAMNの対応の速さはドイツの常識を遥かに凌ぐものであり、驚きを隠せない。今後の連携にワクワクしている。」

「我們把匯集德國、台灣、日本、中國等跨越國界的技術作為專題,正致力於開發出前所未有的新工藝。這次合作就是其中一例,實現了提升表面品質和縮短成型週期這兩個互有矛盾的課題。這項技術的應用前景無限,有望為今後的成型工藝帶來創新。另外,弘瀚公司的應對速度遠遠超過了德國的常識,令人驚嘆。我們對未來的合作充滿期待。」

We are focusing on bringing together the new technologies across borders from Germany, Japan, Taiwan, China and committed to developing unprecedented new processes. This cooperation is one of the excellent examples. Two contradictory issues of improving the surface quality and shortening the molding cycle have been accomplished at same time. The application prospects of this technology are unlimited, and it is expected to bring innovation to the future molding process. Quick response from HON HAMN is far exceeded our general knowledge which is amazing. We are full of expectation for future cooperation.

Commented by Contura MTC GmbH.

HON HAMN is very proud to be the partner of this effective solution team!
We will continue to improve ourselves to offer HIGH QUALITY, GOOD SERVICE, COMPETITIVE PRICE to our valued customers.