Success Case
HON HAMN ONE STOP SERVICE for New Window Unit Project
Established in 1993, this valued customer is the premier manufacturer of commercial and residential air conditioning units as well as refrigeration units in the GCC and MENA region. Having three dedicated manufacturing setups with state of art facilities. Products include Window Air Conditioners, Decorative-Type Split Systems, Central Air Conditioners, Roof Tank Water Coolers, Chest Freezers, Showcase Refrigerators, and Variable Multi-Split Systems.
Through the years, has been involved in many prestigious projects, around 85% of products are exported to over 40 countries globally through an extensive dealer network and dedicated OEM partners.

The customer's vision is to be the largest manufacturer of customer-centric air conditioning and refrigeration systems in the GCC, Middle East and African Regions, and to be a pioneer and leader in innovation and adoption of the latest technology while providing excellent aftercare services to clients all around the globe.。
HON HAMN's factory is staffed with highly educated, well experienced technical personnel, including English speaking project managers, mold design engineers, quality engineers, toolmakers and machine operators. HON HAMN's mold and die manufacturing machines includes all ranges of CNC machines, wire cutting machines and EDM machines capable of making high quality, precise dimension mold and die up to 650-ton plastic injection machine and 400-ton of sheet metal pressing machine.
In 2016, HON HAMN was privileged to be rewarded the project of New Window Unit by the advantages from ENGINEERING SOLUTION, Design Optimization and prototype, MOLD FLOW ANALYSIS, Tooling Manufacture to Mass production and QUALITY ASSURANCE. HON HAMN's team of engineers help the customer through the design stage, take a consultative approach to material selection, and make recommendations on the high quality and stable manufacturing process to satisfy the requirements of this project.
METAL STAMPING DIE

STATIONARY DIE:23 sets
COMMON & FAMILY DIE: 19 sets

PLASTIC INJECTION MOLD

EXPORT MOLD:4 sets
PRODUCTION MOLD:7 sets with LIFETIME MOLD WARRANTY

FOAM GASKET: 23 items
MISCELLANEOUS parts including Condenser Guard, Clamp, Metal Screws, Clip…etc.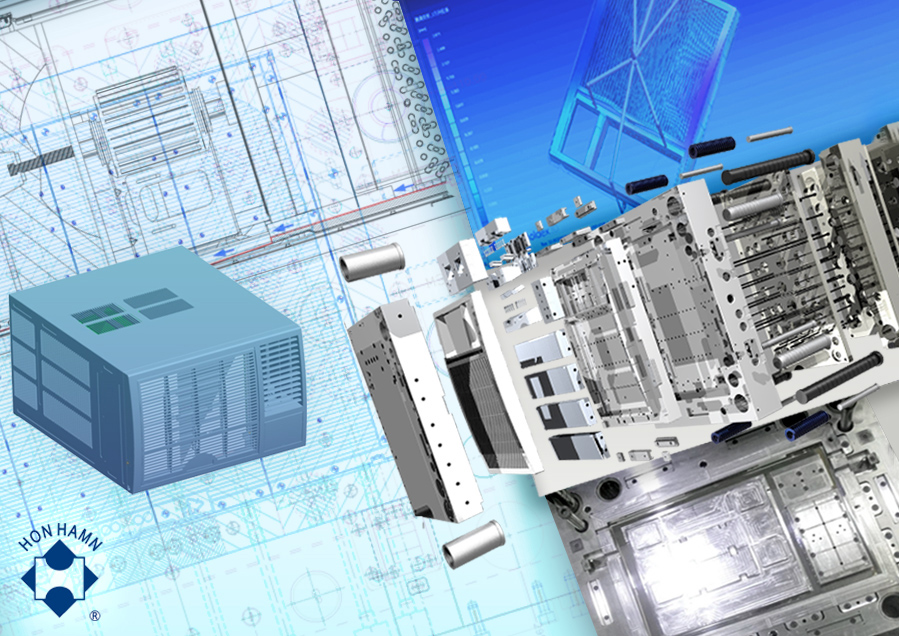 Customer Feedback marked by Managing Director and GM-Materials:
The New Window unit project had a huge significance for us as it addressed efficiency, performance, cost & all the required improvisations as compared to the earlier versions. The involvement & dedication of Hon Hamn's top management made the entire development experience smooth & thoroughly professional. All the tools & moulds developed followed strict procedures of Engineering drgs approvals, prototyping, pilot lots & then final bulk production.
Any changes during the process were accommodated & immediately implemented to ensure that the end product delivers the required output.
Hon Hamn thru this project have exhibited their proficiency over component designing, tool designing, prototyping & even aesthetics. They have a history that even years later, spare parts for the tools & consumables are made available on timely basis.
In conclusion we can say that Hon Hamn's contribution to the successful & timely launch of our New Window Unit is praise worthy. They will be our obvious choice for the next upcoming projects.
Our customers mean everything to HON HAMN. This customer is the leading manufacturer of air conditioner, it is our duty to ensure the products we manufacture are of the highest quality with a price that our customer can afford. HON HAMN has the experience and technology to satisfy the customer's requirement.
HON HAMN is honored to cooperate with the leading manufacturer in this industry for more than 25 years and provides more than thousand sets of metal stamping dies and plastic injection molds and hundreds of items. We will continuously improve our services and keep in the path with our valuable partner together to achieve great progress.